LSTA COVID-19 Keeping You Safe
After weeks and months of uncertainty, we are pleased to update you, our loyal customers, that we are now beginning to reopen our Training Centre, in East Peckham, Kent. In line with government advice and with the health and safety of our customers and colleagues still a top priority, this will be a phased approach with some new processes in place to help protect you and us.
We can't wait to see you again. In line with government advice and best practice, we have introduced some new processes and policies to help protect you and us too.
When planning your visit, we ask that you please follow our new guidelines, put in place for your protection and ours too. There are posters around the centre regarding PPE/Hygiene and an advice and guidance COVID-19 noticeboard in our main reception area.
TO KEEP YOU SAFE, PLEASE HELP US BY

NOT ATTENDING TRAINING IF YOU HAVE SYMPTOMS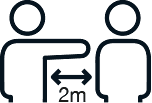 FOLLOWING RECOMMENDED HYGIENE PRACTICES

FOLLOWING THE ONE-WAY SYSTEM
With these new safety measures in place, we look forward to seeing you in the training centre again soon. This will be a gradual process, so please bear with us as we begin the next part of our journey and refer to the web links for more information on our policies and procedures for being COVID secure. We thank you for your continued patience, understanding and support.
For your safety we recommend booking of courses over the phone or contact us at info@leadsheet.co.uk